Easy Homemade Bread Recipes

For kids easy homemade bread recipes are fun to get involved in baking. It is a great opportunity to bake a variety of breads or buns for the whole family and with that to spice up breakfasts and lunch boxes.
The bread recipes are:
free of additional sugar
ferment the spelt flour to reduce phytate levels
reduced gluten content by adding a gluten free component

My family experimented with bread making quite a bit.The simple spelt bread recipe is the best result we achieved. So it is only natural that the spelt bread dough is used as a base recipe for the following:
One sixth of the flour is replaced by whatever you choose your bread to become and some distinctive spices are added. These additions make an ordinary bread special.
Rushing when tackling homemade bread recipes compromises the result.
The bread dough needs at least about 7 hours to ferment and rise in a warm place. Longer is fine. We left it up to 12 hours depending on how the day went. If in the rare occasion something comes in between the baking there is no reason to worry just punch the dough back and leave for up to two days in the fridge (that is the time we already tried). Usually the dough is prepared either in the morning to bake in the evening, or in the evening to enjoy the easy bread recipe freshly baked in the morning.
Please know we love feedback so either drop "Easy Healthy Recipes For Kids" a line via the Contact Us page.
Comment or review here your experiences and successes with the recipe. Or even share your favorite recipe.
Homemade bread recipes:
List of ingredients to prepare the base recipe:
Makes: two loafs of 13 by 22 cm baking forms or 20 buns
5 cups of white spelt flour
1 teaspoon of dried yeast
1 cup luke warm water
3 flat teaspoons Himalayan salt
1 cup of  kefir
After the fermentation and rising time add the ingredients that make the chosen bread.

Directions to the homemade bread recipes:
Measure the flour into a large kneading bowl (or salad bowl) that takes about 5 litres.
Press a hole into the middle of the flour and mix the teaspoon of yeast with about a cup of luke warm water into the middle hole. Wait 5-10 minutes or until bubbles are visible.
Around the flour heap add the 3 teaspoons of Himalayan salt, and the cup of kefir.
When the bubbles are visible knead everything together until a smooth mass has formed. If the dough seems too dry and it is difficult to bind all flour in one flour ball add one or two tablespoons of additional water.
Let the dough ferment and rise in a warm place for 7-12 hours. (If something comes in between punch back and keep the dough for up to 2 days in the fridge.)
When the dough is punched back work under the cup of ingredients that make the bread of your choice with its particular spice or seeds. (One cup is the easiest to handle without it getting to sticky more up to two cups works but is a lot more difficult as the dough becomes more sticky and runnier. It forces to work a lot faster.) Half the dough and form two loafs to place into two 13 by 22 cm baking forms or about 20 buns.
Covered with a towel, let the bread loafs (buns) rise for another 30 minutes.
Buns:  are finished baking after 20-25 minutes at 180C° (Convert!)
Bread: Before enjoying the freshly baked bread let it cool down for 20 minutes to make a cleaner cut. The bread will be soft and fluffy. You might want to cut the slices a bit thicker because it is so fresh.
Rushing when baking bread results in a dense outcome:
The rising time is important. There are no short cuts in bread baking, if the dough didn't rise at least to double its size the result will be most certainly be a lot denser.
Buckwheat bread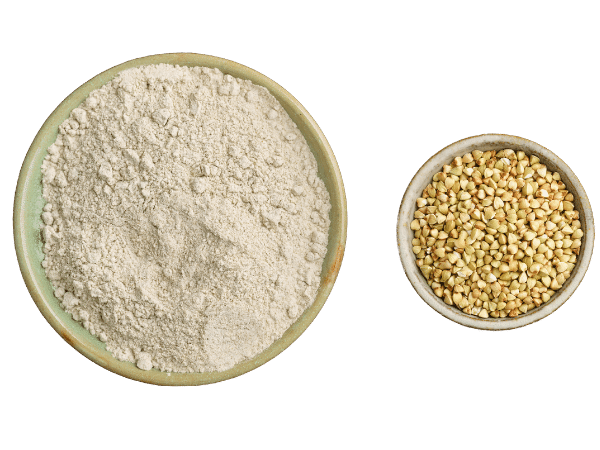 Buckwheat
Walnuts
Cardamom
1 cup of buckwheat flour
1/2 cup of walnuts, chopped
1 teaspoon of ground cardamom
Knead the above ingredients under the basic fermented dough, let it rise and bake.

Sweet potato bread/buns also known under kumara bread/buns

Kumara
Steam, cool and mash sweet potatoes/kumaras (about 2 small sweet potatoes/kumaras) and knead them well under the pre-fermented dough. We tested the orange ones.
This mix is at the moment our favorite. It also makes for especially nice burger buns.
Olive bread

Yellow onion
Rosemary
Sage
Olives
1 cup of finely diced onion
16 black olives
1 tsp dried rosemary
1 tsp dried sage

Knead under the basic pre-fermented dough a cup of finely diced onion with 16 pitted and diced olives and a teaspoon of dried rosemary and dried sage.
Sugar free bread recipes:

The zucchini bread and the carrot bread were responses to the widely known sweet bread variations of both. After we read in the book "Cure your tooth decay" by Ramiel Nagel how sugar and phytate levels negatively influence the ability of nutrients to be assimilated by the body, we had to try a sugar free and fermented version.
Both attempts were a success and can be recommended.
Zucchini bread

Zucchini
Basil
1 cup shredded zucchini
2 tsp dried basil

Or choose to knead a cup of shredded zucchini with 2 teaspoons of dried basil.
Carrot bread

Carrots
Walnuts
Cinnamon
1 cup finely grated carrots
1/2 cup chopped walnuts
1 tsp cinnamon

An other good result of our homemade bread recipes was a carrot bread.
One cup of finely grated carrots with ½ a cup of chopped walnuts and a teaspoon of cinnamon are added to the basic dough.
If you have more exciting ideas on delicious homemade bread recipes why not share the journey to its creation, the recipe and a photo?
Do Share Your Recipe Variation Or Your Favorite One?
Do you have a favorite recipe variation or a favorite recipe? Share it!