Baked Fish Recipes
There is a small collection of baked fish recipes that we draw inspiration from when preparing fish bought fresh from the weekly market.
The fish on offer varies depending on what was caught. Therefore our favorite fish salmon is not always available and we get to try different varieties of fish every now and then. Though salmon remains on top of our list. Recipes range from baked salmon fillet in foil with lemon and rosemary, to pieces of salmon scattered within a spinach lasagna, as well as a creamy sauce with salmon pieces, leek and carrots accompanied by pasta. A freshly grilled salmon steak tempts the taste buds just the same.
Please know we love feedback so either drop "Easy Healthy Recipes For Kids" a line via the Contact Us page.
Comment or review here your experiences and successes with the recipe. Or even share your favorite recipe.
Gutting and de-scaling is not one of my favorite tasks the result is always smelly fish fingers and the scales scattered all around the kitchen bench and floor. Never the less we like fish and it is so healthy but we do however get ready filleted fish more often. We then bake the fish with in season vegetables and add steamed or baked potatoes or sweet potatoes, rice or chickpeas. Sometimes we just bake the fish and add a potato salad or sweet potato salad.
Per person we take about 150g – 200g of fish fillet.
Receive a free to download 27-page e-booklet:
Banana Smoothie Recipes For Kids
and subscribe to our monthly newsletter filled with new recipes, ideas and insights.

Which fillet should I take for my baked fish recipes?
After reassuring the sustainable sources of your fish retailer, it is also important to make sure you like the fish that is on offer. The differences are pronounced in the firmness, flake size, sturdiness of the fish bones, colour and the amount of fats and fatty acids it contains. Everybody has different preferences and each preference counts for a varied experience when you are consuming the fish.
Baked fish recipes using mirror dory fillets:

Mirror dory with potato salad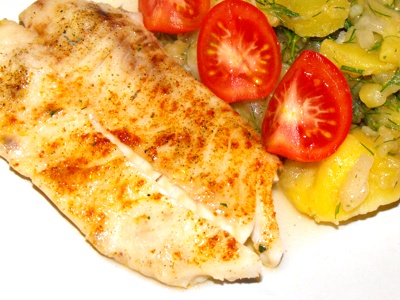 In this example we used one mirror dory also called silver dory fish fillet spiced with pepper, salt and a pinch of vegetable stock powder, and paprika for each person. Spread in an oil or butter greased oven tray and sprinkled with some butter flakes. It is baked for 20 minutes at 180 C° Convert! Usually we put foil over the tray to prevent the fish from drying out. In this case the mirror dory is served with potato salad and a slice of lemon.
---
Mirror dory with an asparagus, mushroom, mustard sauce
The fish was baked like in the example above, but served with an asparagus, mushroom, mustard sauce and steamed potatoes. Two to three small potatoes per person are usually sufficient.
Ingredient list for the sauce for three portions:
3 tablespoons of butter
1 large onion
3 tablespoons of flour
300ml of water or whey
1 teaspoon of pepper
1 tablespoon of mustard
½ teaspoon of salt
1 teaspoon of vegetable stock powder
300g of asparagus
300g of mushrooms
½ cup of chopped dill
Method:
Peel, wash and slice the mushrooms. Set aside!
Wash asparagus and cut into 3cm lengths. Set aside!
Melt the butter in a saucepan.
Add the finely diced onion, and sauté until the onions are translucent.
Dust the onions with flour.
Stir in the water or whey in small amounts. Keep stirring until the flour is completely dissolved.
Season the sauce with pepper, mustard, salt and vegetable stock.
Lastly add the asparagus and the mushrooms. Cover with a lid and let the sauce simmer on low heat for 5-8 minutes.
Mix the chopped dill under and take the sauce off the heat. Let the sauce sit for five minutes. Stir and serve.
---
Mirror dory with mushroom, tomatoes and steamed potatoes
The fish is prepared in layers and then baked.
An onion bed in an oil or butter greased tray forms the bottom layer. The fish fillet becomes the middle layer which is seasoned with salt and pepper. The top layer is made up of sliced tomato and mushroom pieces with some garlic and onion rings. All is sprinkled with salt, pepper and paprika. Before placing the tray in the oven to bake for 20 minutes at 180C°, cover it with foil to prevent the burning and drying out of the vegetables and the fish. We served this fish with small new season potatoes that were scrubbed with a vegetable brush and steamed with the skin on.
They take about the same time steaming as the fish does baking.
---
Mirror dory with zucchini, tomatoes and chick peas
Here we decided to serve chickpeas aside of the baked fish fillet. One and a half cups of chickpeas serves about three portions. The chickpeas were soaked overnight.

Sauté one finely diced large onion and two cloves of garlic in butter until the onions are translucent. Thereafter stir in the drained chickpeas and fill up the sauce pan with three cups of water, add pepper, bay leaf, salt, two teaspoons of vegetable stock powder and one teaspoon of paprika. Let the chickpeas simmer for about one hour, close to the end keep an eye out so that they don't run dry. You may need to add some more water so that the bottom of the pan stays covered, but not too much otherwise they taste watery and you may need to add more spices.
Meanwhile prepare the fish fillet like the mirror dory in a greased tray on top of thinly slice onions, season with pepper and salt. Crown the fillet with sliced zucchini, fresh basil and quartered tomatoes. Preheat your oven to 180 C° when the chickpeas are 30 minutes into their cooking time.  Then place the, tray covered with foil into the oven for 20-25 minutes.
---
Baked fish recipes using hoki fillets

Hoki with sweet potato salad
Hoki is the Maori name, other names include whiptail or blue grenadier.
The meat of this fish is white, medium firm and forms thick flakes.  We baked the fillets covered with foil for 25-30 minutes in the oven.
Use a tray that is oil or butter greased to spread the hoki in. The hoki is spiced with salt, pepper and some paprika. Great side dishes for baked fish recipes are potato salad and sweet potato salad. In this case we chose the latter one.

---
Hoki with leek, tomatoes and oven potatoes
The mixture of vegetables on top of the seasoned fish fillet consists of thinly sliced leek and quartered small tomatoes with some dried basil, salt and pepper. The fish and vegetables were covered with foil.
We arranged it so that the oven potatoes got into the oven about 20 to 25 minutes earlier than the fish that will be in the oven for another 25 minutes with the potatoes at 180C°.
In preparation the potatoes were washed and quartered then dribbled with olive oil and sprinkled with rosemary. salt and pepper, The difficulty for us here was to fit two trays on one oven shelf.
---
Baked fish recipes using red gurnard fillets

Red gurnard with dill, onions and steamed potatoes and sweet potatoes
One fillet per person, was placed on an onion bed in a greased tray. Season with salt and pepper and sprinkled with a generous measure of freshly chopped dill. The tray was covered with foil and all was baked for 20 minutes at 180 C°. When done serve it with steamed potatoes and sweet potatoes. The steaming time of potatoes and sweet potatoes takes between 20-25 minutes. This depends a bit on their size. When checking if they are through poke the potatoes since the sweet potatoes take less time.

---
Baked fish recipes using blue warehou fillets

Blue warehou fillet with tomatoes and spring onions
The fillets are deliciously thick with firm flesh. The fillets are layered on an onion bed and topped with a layer of spring onions, basil and tomatoes. All is seasoned with salt and pepper. Our fish seller recommended baking it for 20 minutes at 180 C° (Convert!) and then to let it rest for a further 10 minutes in the turned off oven. The fillet came perfect out of the oven.
Just like in many other baked fish recipes suitable side dishes for this recipe include rice or steamed potatoes. Both take about the same cooking time as the fish baking time.
Baked fish recipes was made to spark ideas, please leave your comment.

Did you try the recipe?
Feel free to share your thoughts 🙂.